Looking For a Rose Gold Piece? No Problem!
As you have noticed, our default product images show our jewelry in white gold. That doesn't mean that the items are not available in other metals. Simply click on your favorite product, and on the next page look for a drop-down box named: "Select Metal". The absolute majority of our products are available in all precious metal including 14k and 18k rose gold.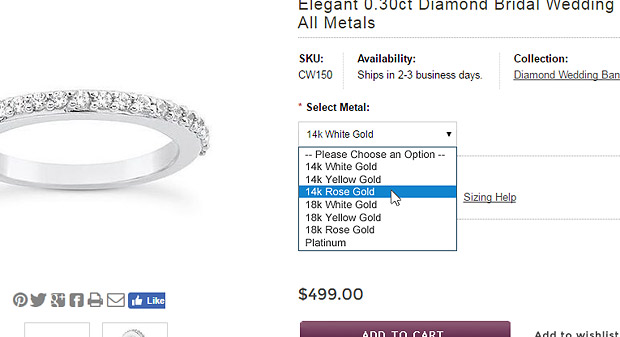 If the listing you are looking at does not offer options for other metals, please email us the SKU number of the item and we will get back to you with a quote.
Here are some of our popular collections available in all precious metals:
All-single color wedding bands can be ordered in white, yellow, or rose gold.
Morganite rings look awesome in rose gold!
Wide selection of styles, select your preferred precious metal.
Now, this is our exclusive line, the rings look great in any metal.
Many more categories on our website allow selection of metals. Feel free to contact us with any questions or if you would like to see how a specific product will look in a different metal and we will get back to you with more images.